Guess what??
Cybils
, that's what. I had the awesome,
amazing
opportunity to be a Round 2 judge for the 2015 Cybils Awards in the Easy Reader and Early Chapter Book category. And yesterday, our decisions were finally announced!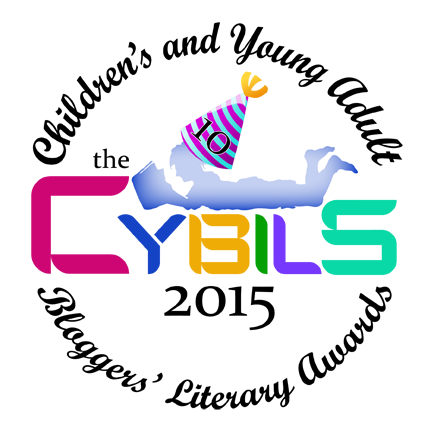 Check out all the winners here
!
But of course, I'm going to highlight the easy reader & chapter book winners here, as well as my (personal, individual, outside-of-the-contest) runner ups.
Being a Round 2 judge means that you get to select the winning title from a group of finalists picked in Round 1. Well, let me tell you, all of the books are finalists for a reason! They were all so good. (You can see all the finalists on the right side of the
home page
). But, without further ado...
Easy Reader
Winner!
Ling & Ting: Twice as Silly
(Ling & Ting Series)
Grace Lin
Little, Brown Books for Young Readers
"Ling and Ting are two precocious Chinese-American twins who like to be silly, stick together and laugh. Their adventures are told in six delightful stories which include trying to grow a cupcake garden, swinging higher than a tree and reaching for an elusive apple as a snack. Their adventures converge in the end as they write a story that embellishes their escapades and gives us a book within a book.
"These six vignettes are perfect for beginning readers as they discover that each story ends with a pun, a clever word play or a solution that will have them laughing at its obvious conclusion. This third book in the series will be appreciated by kids, parents and teachers alike for its quick-witted humor and its two delightful main characters."
It's true--this book is adorably silly. The clever puns and a perfect ending had me fully appreciating Lin's skill as an author. I had never read Ling & Ting before and now I have yet another fun easy reader series to love!
Runner-Ups...
A Pig, A Fox, and a Box
Jonathan Fenske
Penguin Young Readers
Pig and Fox are friends, but sometimes, Fox likes to play tricks on Pig. In this case, it involves a box. However, Fox soon finds that his plans often go awry, and he just may decide that he doesn't want to play tricks anymore.
So I
previously reviewed this book
, and after discussing it for the Cybils, found that I just really loved it all the more! I so appreciate the simple text (in a rhyming scheme, no less) with an inordinate amount of humor. Love me some Pig and Fox.
In, Out, and On the Farm
Ethan Long
J. P. Putnam & Sons
Why is pig in the chicken coop? How does chicken get on the other side of the fence? And just how many animals
can
fit on the tractor? This lift-the-flap book will have all those answers and a quick lesson in prepositions!
Somehow, I have not read Ethan Long's books before. Luckily, this has since been corrected! His work is super basic--a key element for the very earliest of early readers--and yet, so much fun. His illustrations are adorable, and I'm always a fan of speech bubbles. Be sure to check out his other books, too.
Early Chapter Books
Winner!
Dory and the Real True Friend
(Dory Fantasmagory)
Abby Hanlon
Dial Books
"Dory has one foot in reality and the other in the world of her vivid imagination. So when it's time for school to start, her brother and sister warn her that it's time to leave her imagination at home–she needs to make a real, live friend or else forever be a "weirdo." Nervous as she is, Dory goes to school only to be surprised and delighted to meet a girl in her class named Rosabelle–a princess who lives in a castle and has a pet dragon! As Dory does her best to win over her new friend, including making plans to escape the clutches of an evil witch, her siblings doubt the whole thing. Can such a friend really be real?
In her sequel to Dory Fantsmagory, Hanlon has created a hilariously unpredictable story about friendship, and captured the true nature of kids in a compelling way. Dory and Rosabelle are endearing characters with vibrant imaginations, charmingly depicted through clever narration and illustrations. The mix of imagination and reality–and having those worlds collide–was brilliantly executed. The text is simple and accessible for early chapter book readers, yet the story makes it perfectly enjoyable for all ages."
If you're extra observant, you'll notice I reviewed the first book in this series,
Dory Fantasmagory
, during the selection process. That's because I had to read more Dory! She's such a unique character, and yet, a totally accurate representation of childhood. And the bottom line is, of course, she's hilarious.
Runner-Ups...
Clover's Luck
(The Magical Animal Adoption Agency #1)
Kallie George
Disney-Hyperion
Despite her name, Clover has always felt decidedly unlucky. So when she stumbles upon a mysterious cottage in the Woods, she can hardly believe her good fortune. It's the Magical Animal Adoption Agency, and it houses creatures of all kinds. Fairy horses, unicorns, and a fiery young dragon are just the beginning! Mr. Jams, the Agency's owner, agrees to hire her as summer helper and Clover hopes her luck has finally changed. But when she's left alone to care for the Agency, a sneaky witch comes after the magical creatures! Will Clover outsmart her in time to protect the animals?
So don't do what I did. Which was to say something along the lines of, "Oh gosh...magical animals...published by Disney...unicorn on the cover...this is going to be terrible cheesy and sappy." Because it's NOT. It's got some serious oomph that had me reading it cover to cover. And now I'm waiting for my hold to come in to read the next one. Yep, that good. Loved the characters, and thought the ending was perfect.
The Case of the Snack Snatcher
(West Meadows Detectives #1)
Written by Liam O'Donnell, illustrated by Aurélie Grand
Owlkids Books
Meet Myron: a third-grade detective who loves logic, facts, and solving mysteries. He does not love new things. Unfortunately, everything is new this year: Myron has a new baby sister, his family has moved across town, and now he's starting his first day at a new school. But when the school kitchen is burgled, leaving the morning snacks nowhere to be found, Myron gets his chance to crack the case with help from his classmates from Resource Room 15.
Myron is autistic--and an excellent sleuth. O'Donnell has done a fabulous job of depicting the struggles and successes of this character, making him extremely endearing and thus, a favorite of mine. The mystery itself has just the right amount of clues, intrigue, and drama. I really enjoyed the story and am glad I got to read this book. Due to the small publisher, it might not be at your library, but if you come across it, definitely give it a chance!