I finally (
finally
) got my school library's decorations up. Hey, and
it's only October
. Woo! Anyway, I wanted to share the ideas here, point out some cool resources, and even share a free printable travel poster.
Travel poster? Travel poster. Here, you can see what I'm talking about. Check out this library...
The pièce de résistance, of course, is this huge wall. I had each student in the upper grades write their favorite book title (with its call number--had to make this educational after all) on a piece of colored paper and then fold that into a paper airplane. They could make whatever kind of airplane they pleased. In a
very
controlled manner, I then let them throw their creations
once
. They were then picked up and I stapled them to the wall later.
The letters were created with Air Americana Font, printed out and traced onto some old road maps and atlases, mounted onto poster board. Cut, laminate, hang, repeat. Simple, cheap--albeit time-consuming.
Anway, follow the trail of planes all around the room...
These cute suitcases were made by a PTA member. Clever and relatively simple! (Though I'm glad she went to the effort and not me). There's enough to decorate all the shelves.
And then there, in the background, where the paper airplanes lead...
Travel posters! And these are really some of my proudest decorations. I went to a lot of effort to find some good, vintage posters--for both real locations
and
fictional.
For the real locations, I got the posters off of
freevintageposters.com
(it's all in the name, my friends). I picked out travel posters for
Europe
,
New York
,
Austrailia
,
Africa
,
America (arches)
, as well as London, Japan, and Brazil (but I can't seem to locate my specific ones for these three anymore--still lots of other cool options though!).
As for the fictional places, oh man, do I have some awesome Etsy shops to show you...
Amanda from
MiseEnDesigns
made the Emerald City, Narnia, and Wonderland pictures that you see hanging: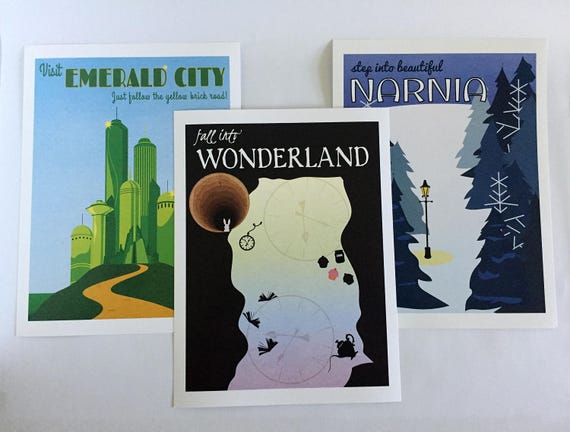 All three of the prints are fantastic--high-quality pieces that have just the perfect literary twist on the classic vintage travel poster. Just what I needed.
To help win over some of my more reluctant readers that seem to thrive on all things Star Wars, check out Allen's work on the
PasspArt shop
...
It's the Endor national park! Ha! But I love that he followed the WPA's original national park design. Provides some awesome vintage flair to a very popular subject in my library. You can find the listing
for purchase here
.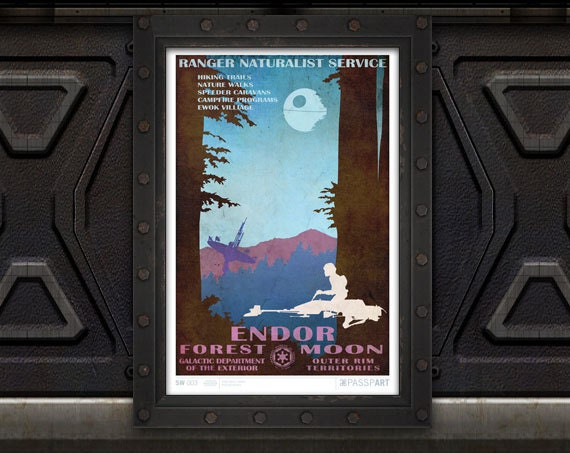 Speaking of popular, I couldn't really get away without something based on Harry Potter. So I was quite excited when I found Nathan's design on
BokaPrint
...
It's the Knight Bus! "Emergency transport for the stranded witch or wizard" in all of its adorable vintage glory. You can find the listing
for purchase here
.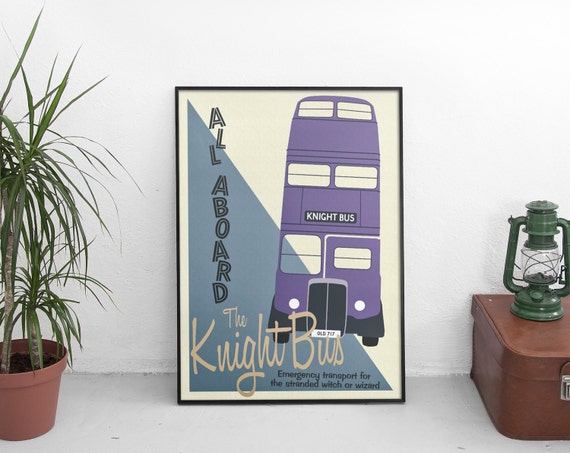 These three shops have such high-quality designs and work--I was so pleased to work with them. They were all generous enough to donate these prints to my wee little library and the kids have loved them so much.
For a few other options, I also found this
Neverland travel
poster
and this
Metropolis poster
.
Now, I don't claim to have anywhere
near
the amount of talent these guys have, but I did decide to try my hand at it (if you've followed along at all, you know I like Photoshop and making lots of
free printable displays
). Here's my design for Hundred Acre Wood...
You can right-click on the image to save it to your computer or download the
.jpg version off of Google Drive
.
Basically, I had a lot of fun decorating this library, though it was a lot of time and effort (yeah, this might be the display for next year, too). Hopefully, this inspires you to travel through some books and show some love to your library! Enjoy!